Items where Subject is "Conservation work"

Up a level
Number of items at this level: 2.
G
In exploring the mnemonic role of gardens, this paper will first focus on the value of gardens as both a palliative for melancholy, as liminal enclaves, and as carefully constructed surrogate memory systems. Their importance as places for reflection and recovery is examined through the lens of post-war Flanders, with a brief examination of the immense task required to recover the land from the trauma of the First World War. The paper then examines the manner in which pilgrims and veterans took their personal narratives to the battle zones. With so little to see, the bereaved had to reclaim lost names from the lost land; this process is explored through the work of the gardeners who had to 'plant' memory and to architects who designed vast monuments to enumerate those who had simply vanished without trace. Noting Fabian Ware's transformational contribution to this process, this paper examines how the sites of battle became named and reclaimed, how shallow ditches and slight mounds were rendered sites of reverence, and how garden cemeteries have become the epicentres of ritual remembering. Two 'mirror' sites of national memory are examined – the 'Anzac' headland in Turkey, and the Memorial parkland and gardens of Shrine Reserve in central Melbourne, both hallowed places strewn with symbolic trees, designed gardens and abundant rhetorical 'topoi'. They are also places where the seed and soil of distant battlefields has been mingled with the national landscape, where the front has literally been transplanted to another country. The paper concludes by suggesting that the garden memorial is an essential component in the future of remembering, creating open and inclusive spaces which rely on participation and careful nurturing to ensure that memory stays alert, relevant, and passed on from generation to generation.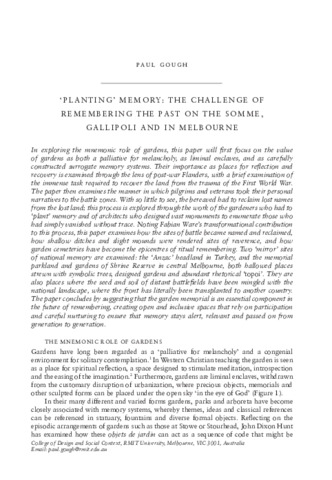 L
Since the 1970s, more products have been made of plastics than any other materials group. Thus all museums with 20th and 21st century collections whether focused on art or science contain large numbers of objects made of or with components of plastics. However the plastics material group contains a very large number of different types of materials that are more or less vulnerable, react differently to the environment and degrade in different ways. As a result different plastics need different conditions. These are important because after manufacture they are the single most important contributor to a plastics object's life expectancy.
Preservation of plastics remains an underdeveloped area in conservation. There have been significant international research projects relating to plastics preservation including the EU-funded PopART (2008-12) and the Getty's on-going Preservation of Plastics but these are aimed at specialist plastics conservators from scientific backgrounds. Creation of this resource required the identification of ways of translating this research into day-to-day curatorial practice. It involved a series of collaborative stages with the participation of sample potential users, including an online survey; a seminar; creation of the resource, including 18 case studies detailing the degradation of specific objects made of different plastics common in heritage collections with achievable guidelines for their care; and peer review of the resource.
This resource was developed to meet a need formulated by members of the Plastics Subject Specialist Network, drawn from more than 50 UK universities, museums and other heritage bodies. Web rather than paper publication makes it more readily available, provides ongoing access to the seminar papers by video, and allows users to take the path through it that best suits their needs. It is already a primary point of reference for museums and galleries and will, in time, contribute significantly to enhanced care of heritage collections.