Items where Subject is "Drawing"

Up a level
Number of items at this level: 9.
B
Taking plants of Malabar (present day Kerala, India) as its principal concern, the project, Sensing and Presencing Rare Plants through Contemporary Drawing Practice (Leverhulme Research Fellowshipm 2017-20) engages with and navigates through three distinct but interconnected historical and contemporary sites of knowledge:
- First, the extraordinary twelve-volume seventeenth century illustrated treatise on the flora of Malabar, Hortus Malabaricus, and its twenty-first century English translation
- Second, historical herbaria in Edinburgh and Oxford housing fragile examples of specimens described in the aforementioned publications, and brought to Britain during the seventeenth, eighteenth and nineteenth centuries.
- Third, remote areas of moist deciduous rainforest of Malabar, the centuries-old protection of which has ensured the survival of some of the rarest plants.
The objectives are:
- Establish an original discourse that aims to bridge debates on contemporary drawing, materiality and the vulnerable nature of plant life;

- Enhance an understanding of the vulnerabilities and resilience of rare plants through research at the interstices of fine art, botany and plant science, museology and cultural geography.
Plants have been a 'currency' of empires, their collection and distribution having had huge social, cultural and political implications. Today, thousands of plant species are identified as endangered or possibly extinct, while bans on the transportation of plant specimens guard against bioprospecting and biopiracy. This, together with significant ongoing interest in drawing in the expanded field, and in the sensory and embodied experience of museum objects, opens a clear position for research investigating the relationships between rare plant life, drawing and herbaria.
Historically, drawing has been intrinsically connected to the collection and preservation of plants as a vehicle for scientific description and identification. With sophisticated digital visualisation technologies now occupying this central position, the proposed project asserts that contemporary art practices, especially those concerned with themes of ephemerality, are renewing the inspirational basis of botanical illustrations and specimens.
Building on Bowen's previous extensive research in drawing and states of flux, this project links the extraordinary ephemerality of the natural world to a broader theoretical concern with, as David Howes has written the 'multiple ways in which culture mediates sensation'. Hortus Malabaricus is remarkable for its in-depth description of Malabar's plants provided a unique springboard for this investigation. At Edinburgh and Oxford herbaria, investigation of preserved examples of these species generated drawings reflecting the impact of conservation methods, and systems of storage, classification and labelling. Field visits to plant science research facilities and Gurukula Botanical Sanctuary, based in the bio-diverse South Indian rainforest, incrementally expanded an understanding of the ontological status of plant specimens in relation to site, whilst interdisciplinary methods offered new ways to engage with herbaria and navigate through protected areas of remote rainforest. This enabled consideration of how dialogue between science and art might be reflected through the conceptual and material aspects of the resulting art works, and the nature of their reception.
The output, outcomes and dissemination included:
i. An exhibition with gallery talks invited exploration of, and critical reflection on, the research by both specialist and non-specialist audiences, providing opportunities for future research and dialogue. The exhibition was staged at Inverleith House, Royal Botanic Garden Edinburgh in 2020.
ii. A closing conference offered a platform to review and extend the agenda of fine art practice-led research. Speakers included: Professor Andrew Patrizio, Edinburgh College of Art; Dr Ian Patterson, University of Cambridge; Dr Henry Noltie, RBGE; Joel Fisher and Dr Sarah Casey, LICA. It is anticipated that the papers presented will be published as a collection of texts through Northern Print, Newcastle.
iii. Reflective texts and visual documentation of the project and its dissemination through exhibition and conference papers, were published by Royal Botanic Garden Edinburgh and linked to social media platforms. The content of the seminars and wider critical themes were articulated, giving academics, practitioners and publics, nationally and internationally, the opportunity to engage with core ideas and outputs.
iv. Core issues which were discussed by Bowen through a conference paper, web article and video interview (University of Oxford) and journal article (DRTP, Intellect Publications).
Descriptions True and Perfect was a one-person exhibition of twenty back-lit drawings, ten artists books and eight video projections, selected and curated for a large-scale immersive installation at the Main Gallery, Jilin University of Arts (JUA), 2016.
Bowen's research aimed to investigate how the preservation, collection and transportation of ephemeral museum objects might stimulate innovative modes of drawing and video installation. This was achieved by interrogating ways in which to transfer and recontextualise knowledge that had been generated by her earlier AHRC-funded research project Capturing the Ephemeral (2010-12, https://gtr.ukri.org/projects?ref=AH%2FH020721%2F1) . A further research aim sought to establish a distinctive discourse which might bridge debates on contemporary drawing, materiality, video and the museum context.
The project contributes to discourse that bridges debates on contemporary drawing, materiality, video and the museum context. The project extends Bowen's interest in devising new ways of creating and exhibiting drawings to interrogate the museological dimensions of the state of flux. It connects with ongoing debates on how the materiality of objects can communicate in various ways as demonstrated through conferences including: Early Modern Matters: Materiality and the Archive. University of East Anglia (2019); Art, Materiality and Representation. British Museum (2018); Childhood and Materiality. Jyvaskyla University, Finland (2019), and publications including Howes, D. and Classen, C. (2014) Ways of Sensing. Routledge; Dudley, S. (2012) Museum Objects. Leicester Readers in Museum Studies and Straine, S. (2010) Dust and Doubt. Tate Papers 14.
The project was framed by Willem Barents' 1596 expedition which left Amsterdam for China carrying Renaissance prints but only reached the Russian Arctic. The prints, now in the Rijksmuseum, Amsterdam remained frozen for three centuries. As a previous Artist-in-Residence at the Rijksmuseum, this exhibition extended Bowen's interest in devising new ways of creating and exhibiting drawings to interrogate the museological dimensions of flux, while exploring themes of ephemerality through different means.
In 2015 Bowen had continued to the cartographers' failed destination - the bamboo groves of East Asia. Filmed solely through a mirror, the resulting video works fragmented Bowen's passage through sub-tropical landscapes and sought to challenge experiential understanding of time and space. Bowen's drawings which had previously been frozen in the Arctic after three winters (in collaboration with the Russian Meteorological Research Centre, Arkhangelsk, Russia), were reconfigured. Through multiple folds, the drawings explored ideas connected to the transportation and storage of ephemeral objects.
In addition to the Bowen's solo exhibition (funded by JUA), the outcomes of this research project were further disseminated through lectures and panel discussions by Bowen at: JUA, China (2016); PSN, Northumbria University (2016); Jerwood Drawing Prize, AUB, Bournemouth (2017) and panel discussion at DRAWING Symposium, South Shields Town Hall, 2017. The project informed Bowen's Leverhulme Research Fellowship (2017-2020, Sensing and Presencing Rare Plants through Contemporary Drawing Practice) through furthering her understanding of the impact of conservation methods, and systems of storage, classification and labelling on museum objects and how this might be interrogated through drawing practice.
Paper, table, wall and after was a co-curated international exhibition in 2015 of 108 paper-based artworks by 38 national and international artists, selected by Bowen and Chris Dorsett. It aimed to address ways in which a work of art continues to resonate after its creation and critiqued the disconnected moments in the 'life story' of an art object. The exhibition focussed on provisional, but vital, stages of making paper-based artworks and examined fluid open-ended possibilities for their interpretation through public installation. The project contributes to debates on how artworks continue to be 'created and re-created' after their completion by the artist through their display, preservation, reproduction and reception.
Artworks that could be folded and unfolded were made by 38 participants and installed across the gallery floor, encouraging intimate audience engagement; the installation thus blurred the boundaries between making and viewing. Visitors were invited to make additional pieces and to move artworks to different positions throughout the exhibition's duration. The content and material nature of the artworks and the unfixed position of their installation, realised the aims of the project.
Bowen's work with Dorsett spans several years of collaboration: her contribution to the project is distinctive as it instigated and investigated commissioned contemporary paper-based artworks and innovative methods of installation. Contextualisation by other researchers is reflected through conferences and papers including: (Afterlives, University of York, 2018); interdisciplinary workshops (The Afterlives of Art Works, University of Warwick, 2017) and scholarly articles (The Afterlives of Art, Toby Lichtig, TLS, Sept. 2013).
It is also contextualised within the framework of Bowen's early and ongoing research interests as evidenced by her paper, Materiality and Transience Through Drawing Practice, delivered at the Fourth Early Modern Symposium, Art and its Afterlives, the Courtauld Institute, London, 2012. This paper explored the correlation between the material transformation of a series of Renaissance prints found frozen in the Arctic and their reinterpretation over five centuries. Paper, table, wall and after built on the symposium's concerns with how, "art is shaped by its afterlives and the ways in which art both persists and changes through time as a material object, a field of generative meaning, and a subject of debate and interpretation". In 2014 key concepts for the exhibition were tested out with co-curator Chris Dorsett, through an installation of paper-based artworks across series of tables and the walls and floor of Gallery North, Northumbria University, Newcastle.
Paper, table, wall and after was informed by Bowen's ongoing research in the relationship between the materiality of drawing and the ephemeral nature of museum objects on paper, evidenced through collaborative research projects at the V&A, London and Rijksmuseum, Amsterdam (2006-12), and the conception, development and leadership of Paper Studio Northumbria (PSN), (2012-18). PSN provided a unique facility nationally and internationally for the research, teaching and scholarship of paper in relation to fine art, conservation and archiving. To further inform her understanding of the material characteristics of paper, in 2015 Bowen made research field trips across Taiwan to Shigeru Ban's architectural construction which utilised cardboard tubes, and to handmade paper mills.
The installation took place in The International Exhibition Hall, National Taiwan University of Arts (NTUA) and Yo-Chang Art Museum, Taiwan. November 2015. It was funded by NTUA. Research findings were further disseminated in lectures in the International Exhibition Hall highlighting research themes through round table discussions with Dr Chih Cheng Chen (Principal of NTUA) and Director of Yo-Chang Art Museum, Dr Chun Lan Liu.
The exhibition directly informed the nature of a floor-based installation of works by researchers and students from AUB and associated drawing workshop, Drawing Boundaries, Folding Islands, led by Bowen at the British Pavilion, Venice Architecture Biennale 2018.
Insights were effectively shared through lectures by Bowen at: Shigeru Ban Paper Dome, Puli, Taiwan (2015); Jilin University of Arts, (JUA), Changchun, China (2016); PSN, Northumbria University (2016) and Belfast School of Art (2015), and through a lecture and panel discussion, Jerwood Drawing Prize, AUB Bournemouth, 2017.
The exhibition led to an invitation from JUA, China, for Bowen to create a large-scale solo installation of paper-based and video works in 2016.
C
Zine, self and micro-publishing has seen a spectacular resurgence in the
last decade, with individuals within tight communities pushing the boundaries of the practice in terms of form, content and process.
This paper will examine ways in which this reinvestment of illustrative authorship
has been stimulated by the iterative and performative aspects of zines, self and
micro-publishing, through the discussion of varied publications' genesis with their
illustrators – including my own self-published book The House.
This paper will consider how performance underpins both the motivation and
creative process of such publications so as to highlight potential contributions of
the scene to wider illustrative authoring practices.
In recent years, the mainstream press in the UK and France have devoted significant attention to illustrated imagery in communicating contemporary events. In particular, the illustrated image via reportage has become a prominent tool for articulating the identities of individuals at the margin of society, for example victims of war, refugees and displaced people. This article explores this alternative method of reporting by focusing on the considerable coverage that the Jungle camp at Calais has received through reportage across the British and French press and beyond. Utilising Fuyuki Kurasawa's essay 'Humanitarianism and the Representation of Alterity: the Aporias and Prospects of Cosmopolitan Visuality' (2010), the article looks at the reporting of the refugees' situation through an analysis of illustrations presented in articles and blogs published by The Guardian, Le Monde, Libération and Arte. It examines the potential for reportage illustrations to provide 'thicker' representations, more complex discourses and new or alternative approaches to the construction of identities, in particular identities that constitute 'the other' within the contemporary European scopic regime. The article finds that the construction of the subjects' identity follows established tropes which are related to the methods and conditions of creation, and that there is a need to query existing approaches in order to question dominant discourses of identity. Moreover, we suggest that within the case of such image making, it is the identity of the artist/publisher/reader that is ultimately asserted, within the context of a humanitarian discourse.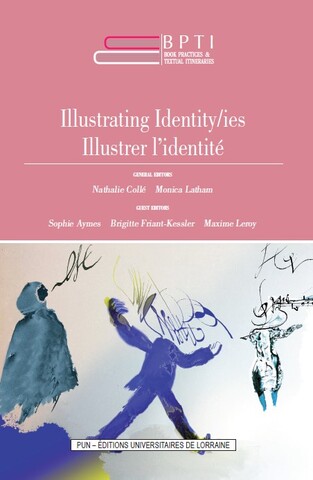 G
On the First of May 2000, central London was beset by some of the most violent civil unrest seen on the streets of the capital for decades. Tens of thousands of activists had gathered as part of global anti-capitalist protests, drawing vast crowds under a miscellany of banners, causes and affiliations. Anti-road movement 'Reclaim the Streets' was one such splinter group. Over the previous five years it had staged numerous street interventions, unannounced occupations of city centre road junctions and pop-up protest parties such as the moment in mid-July 1996 when 6,000 protesters blocked a section of the elevated M41, a four-lane motorway running through Shepherd's Bush in West London. Hidden underneath colourful dancers on stilts and wearing expansive wire-supported dresses, environmental activists busily drilled holes in the motorway tarmac and planted small trees and saplings; the noise of the pneumatic drills was drowned out by the blare of music sound-systems rolled onto the highway.
Erratically embellished with sprayed stencils, logo-rich stickers, elaborate murals, and unintelligible doodles, our urban environment overflows with irreverent and unlicensed imagery.
Classic New York freehand and wildstyle graffiti has evolved, adapted, and atomised into a democratic and divergent forms of visual expression that is captured under the nebulous term 'street art'. 'It is characterised', states curator Riika Kuittinen, 'less by a visual style than by an approach to transmission: it is unfiltered visual communication, fluidly moving across the derelict buildings,bus shelters and hoardings of cities across the world." Armed with attitude of irreverence, equality and freedom, it is in fact a new genre that mutates and morphs at the rate of a viral pandemic. Lacking a common aesthetic, street art, a term loathed by classic wall 'writers' speaks loudly to a passing population, even if it remains entirely obscure to most.
The exhibition asked a number of questions about the evolution of graffiti into 'street art', and more recently into 'urban art', by way of the alleyway and backwall. Where do such images truly belong now: in the alleys of our urban centres or on the white walls of the gallery? Can they belong in both? What happens when the urban calligraphy of tags and stencils is subsumed by the auction
house, and why do we feel a sense of loss when the raw energy of street art, of urban writing, is absorbed by the mainstream media, and effectively tamed. Why is that some of the best illicit art of the street is promptly ripped off the wall, taken out of its context, seized into private hands. In effect moved from the public wall to
behind a pay wall.
L
In this practice-based research project the Teleorama, an historical, miniature optical device, is interrogated as a two-dimensional, drawn, painted or printed form that expands into a three-dimensional layered structure to internally depict a scene or event. This interrogation is brought into a relationship with the subject matter of the spatiality and materiality of modern ruins to address the following principal research question: Can the form of the Teleorama be applied to an investigation of sites of contemporary ruination in order to create immersive drawing-based installations that offer new approaches to fine art drawing practice?
The Teleoramic viewing experience is theorised through 'layered vision', a concept describing how the form is constructed to depict a scene from several viewpoints, or distinct spatial locations, and is consequently able to represent multiple moments in time. The Teleorama's ability to invite the viewer 'in' to explore its miniature space is conceptualised through reference to the Picturesque, with which it shares an interest in framing and layering as absorptive devices, evidenced in contemporaneous painting and garden design.
Through constructing maquettes informed by several formal iterations of the Teleorama, and enlarging these to become installations, my practice explores the extent to which such works can convey the fragility and ephemerality observed in my initial encounters with modern ruin sites. The Teleorama's potential to provide a perceptually and physically immersive experience for the viewer is examined in relation to both its structural form and selected fine art installation practices that employ representational imagery.
Whilst existing two-dimensional art practices address the modern ruin as a subject matter, this research proposes that the multi-layered, semi-enclosed structure of the Teleorama can be used as a basis from which to create immersive drawings of such sites. As such, I propose 'installation drawing' as a novel art form that allows for the physical experience of space and apprehension of a remote, virtual place. This dual ability suggests installation drawing as a model that might be adapted to confer this dynamic viewing experience to wider subject matter (and through varied media) by practice-based researchers in the field of Fine Art and beyond across other disciplines.
N
Habermas locates the distinction between the public and the private spheres in ancient Greece (Habermas, 1989, p.3). By the 1700s, the term home was commonly applied to the private sphere which was also seen as the domestic. This shift generated extensive critical debate during the 20th Century with the development of feminist discourse. In the 21st Century human migration and globalisation added a new dimension to the debate. As perceptions of home continue to shift, the two levels of debate are yet to be fully integrated. My research seeks to contribute towards bringing these two debates closer together by attempting to visualise home through my drawing practice. I appropriate methodologies utilised by feminist artists and theorists; specifically, the strategic use of autobiographic construct. A strategic autobiographic methodology allows me to address home within the context of globalisation and integrate both levels of debate.
In HOUSE, I utilise architectural drawing modes to test conceptions of home as housed by a physical building, only to find that I have no rest, retreat or home of my own within it.
In VIEW, I move around the interior, my defiantly time-consuming lines mapping household activities and tasks. These vision-based methods map the house but not home.
In BODY, I look for home through multi-sensory approaches and embodied inhabitation. What emerges is still the house.
In HOME, my drawings map the fluid experiential entity constituted by social interrelations and encounters. Familial obligations and responsibilities are presented textually and sorted repetitiously. In this way home is materialised as the ties, relations and duties today's woman carries with her.