Items where Subject is "Public art"

Up a level
Number of items at this level: 5.
C
This paper reveals how UK street carnival is located within policy discourses that facilitate notions of creative economy, inter-place competition and the representation of institutionally-preferred versions of local, regional and national place-identity. The paper draws on ethnographic research within two community town carnivals and the professional Battle for the Winds carnival performances that launched the 2012 Olympic sailing at Weymouth. It considers the evolution of policy-driven carnival vocabularies that were designed to articulate preferred 'Jurassic Coast' and Olympic place identities for the south-west UK during 2012, and their effect on two vernacular, community street carnivals in East Devon and Dorset. The paper exposes the cultural tension between these vernacular events and the 'official feast' of Jurassic Coast and Olympic carnival, in terms of their performance of contradictory place-identities and contested notions of artistic community. It describes the popular challenge to aesthetic hegemony that these community carnivals presented during 2012. Finally, the author argues for a reassessment of the artistic value of vernacular carnivals, and affirms their status as a culture of resistance that creates alternative, sometimes inconvenient, symbolic constructions of community and place to those preferred by institutional actors operating within a neo-liberal discourse of inter-place competition.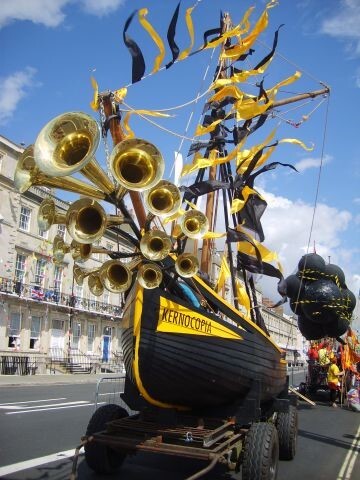 G
'Stasis' is widely accepted as the pre-eminent condition of the conflict on the Western Front; a war of congealment, fixity and stagnant immobility fought from defensive earthworks that were intended to be temporary but quickly became permanent.
In the battle zones a new spatial order emerged. Beyond the superficial safety of the front-line parapet was No-Man's-Land; a liminal, unknown space, a 'debateable land' that could not be fully owned or controlled. Far beyond lay a green and unspoilt distance, a 'Promised Land' that was forever locked in an unattainable future. This was the domain of imperial development and potential exploitation.
This chapter explores the spatiality of conflicts on the Great War battlefield, and draws on the work of several British artists, cartographers and surveyors who attempted to explore and lend visual form to the chaos. Through the act of mapping and drawing they attempted to systematize the outward devastation, whereby trees would become datum points, emptiness was labelled, and the few fixed features of the ravaged land became the immutable co-ordinates of a functional terrain, a strategic field, where maps where predicated as much on time as of place.
K
This research concluded in an exhibition at Dorset County Museum in 2018. The research explored how scenographic design processes can be used in the creation of visual art, with a purpose of reconceptualizing the complex ideas of deep time and the Anthropocene. Howard (2009) states that 'Scenographic story telling brings an individual angle to a well-known work so it can be presented to a fresh audience'. I claim that by approaching this art work from a scenographic view point I have developed an exhibition that unpacks the complexity of Earth's story in a playful and engaging way. Deep time is a notion of geological time determined by the long and dense history of Earth's development over 4.5 billion years. In this exhibition I used a Longcase Clock, together with other interactive artefacts, to consider emerging theories about time. The Anthropocene is currently an informal term to signify a contemporary time interval in which surface geographical processes are dominated by human activities (Zalasiewicz, Crutzen, Steffen, 2012). By using the construct of the Anthropocene in the artwork I encouraged the audience to think about the world and to be naturally curious about its future. This artwork is the outcome of research which engaged with museum collections, earth scientists and natural forms as well as the development of materials. I collaborated with a theatre director to create dramaturgy in these static artefacts 'using metaphor[s] to draw [people] into a world plausible for tackling obscure and abstract ideas' (Braund, 2015).
M
The Hidden Stories app delves deep into the untold history of Leicester's Cultural Quarter, bringing the area to life through poetry, plays and narrative non-fiction.
The app operates via locative technology that triggers fragments of writing at specific locations; the texts are effectively connected with the location and history they are exploring, with content being unlocked as the user moves around the area.
Each text is displayed differently within the app, taking advantage of the framework to emphasise the ideas being presented by the writers and reflecting the concept of hidden stories.
Hidden Stories was commissioned by Phoenix and developed by Cuttlefish Multimedia as part of Affective Digital Histories, a research project investigating how communities change with urban decline and regeneration. The five pieces of creative writing used in the app were commissioned and edited by Corinne Fowler, director of the University of Leicester's Centre for New Writing. To find out more visit affectivedigitalhistories.org.uk.
S
This article examines the performative digital practices of India's feminist campaign group Blank Noise, with a focus on their 2016 project #WalkAlone. The event sought to explore and challenge embodied notions of female safety and visibility in night-time urban public spaces, by inviting women to walk alone in a place of their choosing between 9pm and midnight. In doing so, Blank Noise called on participants to 'walk alone, together', utilising digital documentation tools and media platforms to network these dispersed embodied acts. Drawing on my participation in #WalkAlone from the remote position of the UK alongside online documentation of the project, I examine how these tools established 'digital proximities' between participants, transforming our solitary acts into collective embodied action. I argue that Blank Noise's project extends Butler's notion of 'plural performativity' (2015) into a digital public sphere, by constructing a mode of embodied assembly within media spaces. Here, digital proximities between dispersed participants forged a concerted enactment from the private and personal actions of individual women, walking on the stage of the nocturnal city.