Items where Subject is "Sculpture"

Up a level
Number of items at this level: 4.
F
In Theodor Adorno's writing the term "natural history" has quite a different meaning to its usual scientific usage. Adorno's idea of natural history aims at reconciling, in form and in content, the opposing forces of nature and history with the aim of overcoming the division of natural being and historical being that Adorno considered to be the central problem of critical social theory. Through sprawling installations the French contemporary artist Pierre Huyghe creates new forms of interaction between natural systems and artificial constructs. Huyghe's body of work is submitted to interpretation through Adorno's dialectic of nature and history to establish the relevance of both Huyghe's practice and Adorno's thought to the conditions of the Anthropocene.
K
The paper discusses insights from a post-disciplinary artist who reflects on his artistic practice. This case study is written from an autoethnographical perspective, in a narrative-evocative voice, contextualised with Moon's strate-
gies of reflective learning and the Socratic method. Adapted on Moon's suggestions and based on the Socratic discourse of self-examination, semi-structured questions for the self-reflection have been prompted whilst reading texts of Bergson's process philosophy. These questions have then been scrutinised if and how they are relevant to the artist's practice. The artist also reflected on his emotions during the reflective writing process and in retrospective thereof which further developed the writing process and content selection of the self-reflection. The general aim of the subjective reflection was to verbalise the complex layers of meanings that are inherent in his artistic processes. The author anticipates that the self-reflection could serve as a case study for students in mainly, but not exclusively, tertiary art education. Ideally, the research could be a guidance, or inspiration, for students to find their own sources for reflection such as writings, artworks or exhibitions, which could trigger questions about their individual artistic processes and outcomes. Based on the artist's experiences, in the context of his on-going doctoral research, such self-reflections could enhance other students' and artists' metacognitions as competencies to better communicate their own artistic practices.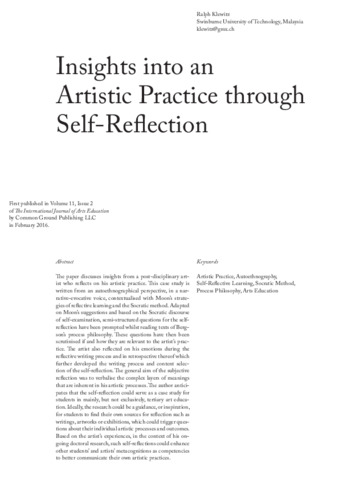 R
Within and Between: Women, Bodies, Generations took the form of four sculptural installations staged jointly in 2019 with Janice Howard and Clair Chinnery at Glass Tank Gallery, Oxford Brookes University, UK.
The work drew on auto-ethnographic research which aimed to interrogate and reframe female bodily ageing. Each of the four large-scale works explored different stages of the artist's life initiated by an active and embodied reworking of feminist paradigms and informed by thematic methodologies of practice-based and theoretical enquiries of women artists who have also addressed rites of passage, puberty, menstruation, pregnancy and representation (Kiki Smith, Womanhouse, Judy Chicago, Louise Bourgeois, Carolee Schneemann, Julia Kristeva, Lucy Lippard, Luce Irigaray).
Representations of women's bodily function have historically constructed women as subjugated by their embodiment, so incapable of rational thought. This has resulted in negative associations of menopause as problematic, barren, dried-up, unproductive and issueless. Through her work, Richardson raises questions about what remains unresolved and hidden as science, legislation and culture fall short of fully understanding and articulating 'the change'.
Through her chosen methodology, Richardson responds to the urgent need for a fuller articulation by addressing and redefining the intergenerational space of maturing children and diminishing parents.
By generating positive connectivities, relations and exemplars, the research project offered a more dynamic perspective and associative visual language. Proposing the menopause to be a potentially rich and liberating developmental phase of life, the outcomes contribute fresh understanding that can be usefully acted upon through future cross-disciplinary collaboration and enquiry.
The exhibition was funded by Oxford Brookes University, and accompanied by a series of talks, gallery events and a bespoke website: lisarichardson.me
This lavishly illustrated book breaks new ground in focusing on some of the many successful professional British women sculptors active during this period. Largely unknown, the few women who have been mentioned in histories of twentieth century British sculpture have been those who adhered to the (masculine) Modernist canon. Organized by theme this book explores and illustrates an unusually large number of and stylistically varied works. The social and cultural contexts in which these women sculptors were working are investigated, revealing how, mostly male, commentators often fixated on their gender at the expense of seriously engaging with their work. A wide variety of sources are used, ranging from contemporary art historical accounts to articles in popular magazines. This book explores contemporary sculptural developments, art school training, exhibiting opportunities, and the writings of influential critics. It also reveals how important photography, film and the written word were in the creation of reputations. Alongside revealing important works and individuals, this book's originality also lies in its scope, covering diverse sculptural genres such as decorative sculpture and utilitarian objects for the home and garden; portraits and statues; architectural sculpture, war memorials and ecclesiastical work.