Items where Subject is "Art History"

Up a level
Number of items at this level: 12.
G
The commemorative period between 2014 and 2018 was marked globally by numerous exhibitions of original artworks that had been commissioned and created during and immediately after World War 1. Most national and state museums and galleries also curated comprehensive survey shows of original work from the period; some curators took a thematic approach, some designed new permanent exhibits, and a significant number created innovative opportunities for contemporary artists to reflect on the centenary through the creation of bespoke artefacts, installations and exhibitions.
Paul Gough is interested in drawing in-between places, liminal zones, waste grounds, empty places that were once something and now have been allowed to lapse back into their habitual shape. Look at his drawings of the former airbase at Greenham Common, or the ash-heaps of the old north Somerset coalfield, the abandoned village of Tyneham or the forlorn gullies on the Gallipoli Peninsula. They are powerful evocations of absence and embedded memory. Writer Marion Shoard coined these unloved, unseen and often unexplored spaces as the 'edge land', a mysterious hinterland of brick piles and rubbish tips, derelict industrial plant and ragged landfill, forlorn filling stations and scruffy allotments, abandoned ordnance lying amidst rogue plants.
Thirty years ago, the naturalist Richard Mabey in his book 'The Unofficial Countryside ', had also opened our eyes to the vitality of these unkempt places. He, however, found little to cherish and celebrate in these wasted hinterlands. Instead he marvelled at the resilience of nature in such abject conditions, its refusal to be ground down by toxic contagion.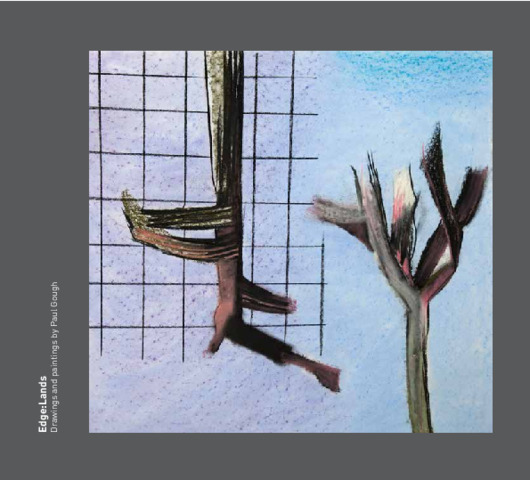 To mark the centenary of the signing of the armistice and the end of the First World War, the Shrine Trustees are pleased to present Flowers of War. Artists and jewellers Kirsten Haydon, Elizabeth Turrell and Neal Haslem have created this beautiful and reflective commemorative wreath using hundreds of floral emblems from battlefields around the world. Inspired by those found on those same battlefields and the native flowers of those countries and all of the Allied nations who fought alongside Britain in that war. Our guest speaker Professor Paul Gough, will speak to us about his presentation, 'Seeds, soil, saplings, Reflections on the Flowers of War and Peace'. (Introduction by Shrine of Remembrance, Melbourne CEO Dean Lee)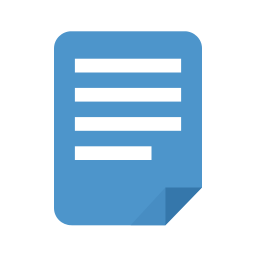 This paper considers the relationship between site, memory and fine art practices, as viewed from the perspectives of a practitioner informed by the discourses of commemoration and the aftermath of conflict. Through an exploration of art works derived from encounters with displaced spaces, peripheries and edgelands, Gough situates his practice – and that of several selected artists – as a conversation between "place", "space" and the geopolitical. Artists have long employed the notions of ambiguity, transition and the hybrid in their work.
Framed within the discourses of liminality and aftershock, practitioners have explored various strategies to address rites of in-betweenness to evoke a sensation of transition and displacement. To explore these ideas, Gough posits a number of his artworks as 'provocations', and draws attention to other contemporary artists and practitioners similarly drawn to the aftermath of constructed places and re-constructed histories. The paper draws upon two suites of Gough's work each addressing aspects of the aftermath, and each to a degree addressing issues of transgression. The first is a series of site-specific photographs take on the decrepit and abandoned British army bases in former West Germany where Gough's family was garrisoned during the Cold War.
They speak of an abjectness and blankness tempered by the depth of familial association. The second suite of practice use frottage, rubbings and photographic collage, to assemble a cycle of triptych forms drawn from prolonged site visits to the sites of twentieth century battle in Turkey, France, Belgium and Macedonia: locations richly associated with transgressive military intervention and now comprised of preserved terrain, military cemeteries and rhetorical topography that has long informed Gough's practice.
As one of Britain's most eminent 20th century painters Stanley Spencer's work has often been overshadowed by his chaotic and colourful private life. This is the first book since Richard Carline's Stanley Spencer at War (1978) to focus entirely on the painter's service as an orderly, soldier, and patient in the First World War, and to critically evaluate his time in Bristol, the Balkans and Burghclere between 1915-1932.
Drawing on Spencer's letters, illustrations and paintings, and interviews with relatives, curators and others who knew him, Gough examines Spencer's journey from cosseted family life, through the drudgery of a war hospital and the malarial battlefields of the Macedonian campaign, to the commission for the Sandham Memorial Chapel in Burghclere. Through a close reading of contemporary texts and artwork, the book locates Spencer's work as a key component of the commemorative era after the Great War, situating Spencer's paintings of resurrection as a response to the complex bureaucracies of commemoration and a visual re-imagining of the exhumations and burials that were then taking place in battlefields across Europe. Spencer's work is examined in the context of other architects, sculptors and soldier-artists of the period, but is also positioned within the discourses of haunting and memory construction.
A number of the themes in the book were aired through several conference papers: 'Resurrection: reviving the dead in the work of Stanley Spencer, Otto Dix and Jeff Wall' Spaces, Haunting, Discourse conference, Karlstad University, Sweden (15-18 June 2006); 'Heroic death: models and counter models', WAPACC conference, USA (28-30 October 2006).
On the First of May 2000, central London was beset by some of the most violent civil unrest seen on the streets of the capital for decades. Tens of thousands of activists had gathered as part of global anti-capitalist protests, drawing vast crowds under a miscellany of banners, causes and affiliations. Anti-road movement 'Reclaim the Streets' was one such splinter group. Over the previous five years it had staged numerous street interventions, unannounced occupations of city centre road junctions and pop-up protest parties such as the moment in mid-July 1996 when 6,000 protesters blocked a section of the elevated M41, a four-lane motorway running through Shepherd's Bush in West London. Hidden underneath colourful dancers on stilts and wearing expansive wire-supported dresses, environmental activists busily drilled holes in the motorway tarmac and planted small trees and saplings; the noise of the pneumatic drills was drowned out by the blare of music sound-systems rolled onto the highway.
The special authority invested in the war artist and the image had become denuded by the mid-1980s. Although an independent artist working to commission, Peter Howson's work in the Balkans was considered to have crossed the line that distinguished between impersonal witness and overzealous artist. Unlike William Orpen's impartial rendition of gross personal violation, Howson was deemed to have become both judge and jury, an advocate not an artist, corrupted by circumstantial evidence rather than remaining vigilant as an uncorruptible viewer. For his part, Howson was clear that the terms of engagement had fundamentally changed since the Great War: it was no longer simply about what could be seen or not seen, but also what was known and could not be denied.
"Fortunes of War evolved through an enquiry led (pre-internet) approach that focused on a Lamarkian preoccupation with the potential impact of an environment on collective and individual behaviour. The intention was to create anticipatory photographic images. A 'retention vanish' approach to composition placed the emphasis on framing the subject of the image from the perspective of the distraction and not the scene. Through this an attempt was made to counter pre-occupied states of mind, circumventing a censorship of expectation relating to the form of both the work itself and significantly that of its maker."
T
This book challenges the status quo of the materiality of exhibited photographs, by considering examples from the early to mid-twentieth century, when photography's place in the museum was not only continually questioned but also continually redefined.
By taking this historical approach, Laurie Taylor demonstrates the ways in which materiality (as opposed to image) was used to privilege the exhibited photograph as either an artwork or as non-art information. Consequently, the exhibited photograph is revealed, like its vernacular cousins, to be a social object whose material form, far from being supplemental, is instead integral and essential to the generation of meaning.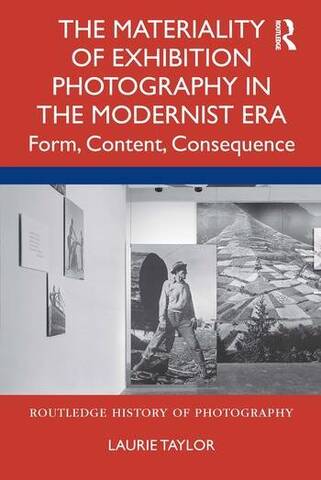 V
Film Talks is an edited collection of unique conversations on experimental cinema from a range of eminent and emerging film and video makers. The book represents a contemporary snapshot of the ways in which experimental cinema is perceived by its practitioners, often in relation to other art forms, moving image culture at large and wider social issues. It is an invaluable guide for those keen to immerse themselves in the insights and perspectives that only artists can offer.
Resemblance to Other Animals (16 mins, HD, 2019) is a memory work that considers locational effect and its recollection. Its key elements, images of encased taxidermy and a traveller's voice, offer different temporal plains and positions. The images were shot in the Horniman Museum's, London, natural history gallery and the recordings were inspired by work related travel, time away from home. These combined sensory streams, conjoined by narrative's reason, suggest temporal and spatial complexity and the partialness of remembrance.
The Horniman Museum is a testament to the Victorian mania for collecting, which was also the time of the 'memory crisis' when Bergson, Freud, Proust and later Benjamin were proposing a new intuitive, individuated, understanding of memory. A museum collection creates history, a vision of the past, that is in itself a product of history. Resemblance to Other Animals juxtaposes this site with personal recollection, which relates a sense of place to identity and can challenge institutionalised positions, examining how this correlation can be conceptualised and represented.
This examination considers whether the artistic engagement with form and content can formulate a place of creative reckoning, were an imaginative exploration can occur and a different past can be discovered, and if these sensory and conceptual elements can create a memorious investigation that generates new readings.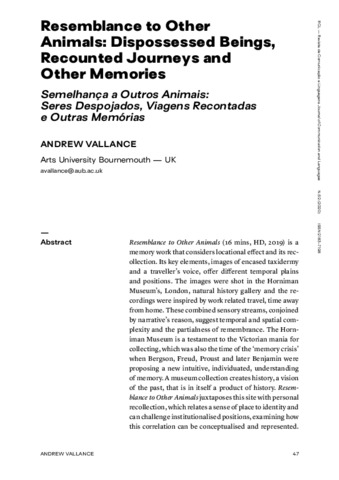 W
The deep geological repository project for the long-term storage of radioactive material opens an encounter between design processes in the present and the 'deep time' of 4.46 billion year futures. Beyond debates around ethics of responsibility to future generations, this paper argues,
this invokes a more radical futurity, where human thought confronts its contingency alongside nuclear timescales. Art practices play a key 'stakeholder' role in imagining repository sites, in a context where they are both rooted in materialities of stochastic decay process and necessarily subject to interdisciplinary transformation. This paper asks what specific knowledge art practices
could give us in this context. What are their potentials and problems? And what could this mean for the historical conditions of 'contemporary art'? It does this through departing from the 2010 film Into Eternity and its production of awe-struck ineffability through cinematic allusion to massive duration. Deep radiological times are proposed instead not as 'eternity' but as 'very large
finitude' (Morton), not immeasurable but as call to develop art practice through collective experimentation and technological augmentation. This extends Nick Srnicek's proposal for an 'aesthetics of the interface' as a making operational of complex data through making it amenable
to the senses, and concludes with some propositions from the author's current art practice.