Items where Subject is "Textiles"

Up a level
Number of items at this level: 13.
E
In 2015 Ellison was invited by fashion brand owner 'Cherchbi' Adam Atkinson to publish a book about Herdwick wool a raw material of the rug sacks Cherchbi produced.
The subsequent book, Herdwick Common was published under the brand publishing imprint, as a 98-page photo book with accompanying essay from acclaimed author, James Rebanks,
(The Shepherd's Life: A Tale of the Lake District). When reading into Herdwick sheep, something I discovered was 'heft' - A place where the sheep were rooted to by birth and returned to instinctively. This is something author James Rebanks has written about in his publication 'A Shepherds Life' a retelling of life spent as a farmer near Penrith. His book content and title inspired by W.H. Hudson 'A Shepherds Life' tells a passionate account of the up and downs of growing up as a farmer.
Research Imperatives
Ellison explores the cultural and symbolic significance of sheep on the region of Cumbria. The oldest reference to sheep kept in the Lake District is in documents dating from the 13th Century when the Cistercian monks of Furness Abbey near Barrow and Fountains Abbey near York farmed large areas. The documents simply make reference to the use of the short, coarse hair of the sheep for their habits. There is no mention of Herdwick although short, coarse hair may be a clue to one of the characteristics of an early hill breed.
Ellison began by researching the name 'Herdwick', thought to derive from Herdvyck, Norse for 'sheep pasture'. This has led some to believe that the breed was, maybe, brought into the country in the 8th and 9th centuries by Norse invaders from what are modern Denmark, western Sweden and Norway. More likely though, they were named Herdwick simply because most Lake District farms had land for sheep and were referred to as 'herdwicks'. So the sheep adopted their name from the farms. The breed seems to have changed somewhat over the past two centuries to what we accept today as the Herdwick. Drawings and prints from the 19th century seem to indicate a taller and less stocky version of what we have in the 21st
century.
The book brings together an essay by James Rebanks, a story told from within alongside of series of photographic portraits that tie together this ancient rural livelihood.
In 2018 Ellison was invited by curators Lou Stoppard and Adam Murray to exhibit a series of his Cumbrian portraits and landscapes in North: Fashioning Identity at Open Eye, Liverpool, Somerset House, London and Civic Centre, Barnsley. This celebrated exhibition generated worldwide press coverage and formulated new research opportunities into regional identities in Photography and Fashion. Following this celebrated exhibition, Ellison was invited by Centre Centre to publish Tek Hod, Embroidered Wrestlers of the North.
Research Imperatives
Ellison explores the cultural significance of embroidered costumes of regional sport Cumberland and Westmorland wrestling. The costume of white cotton vest, velvet underpants and white cotton long john's features motifs that represent or identify the wrestler. Commonly, embodying the idyllic picturesque image of the English Lake District, this costume represents the celebration of rural life depicted by vernacular embroidered symbols. Usually associated with nature, the costume embroidery is sewn by the family who wrestle, often abbreviating the initials of the wrestler and decorated with flora and fauna featuring the native landscape of Cumbria and much celebrated English Lake District.
Ellison researched critic John Ruskin's connection to the arts and crafts in the Lake District and how his patronage of craft influenced the style of embroidery seen on wrestling costumes. Ellison's subsequent documentary photographs (2008-2018) follow the wrestling contests in the landscape and trace the performance of tradition. Furthermore, his cross disciplined analysis of embroidery and photography traces the 'skilled' labour of the arts and crafts in the Lake District against the 'unskilled' vernacular embroidery seen on wrestling costumes from archival photographs.
The book Tek Hod, Embroidered Wrestlers of the North brings together a documentary photographic practice alongside a rigorous research project that re-frames knowledge of the arts and crafts and the picturesque through archived photographs used to chart the evolution of craft - crediting amateur makers of embroidery.
S
The scale and pace of hand-stitching match those of the body, grounding cognitive and emotional experiences of solitude or sociality in a tangible process. The hand–eye–mind coordination required cultivates a distinc- tive form of attention to the self. On the one hand, as a private, contemplative activity, the slow rhythms of hand-stitching allow an individual to carve out time and space for introspective reflection. A collective stitching practice on the other hand, with fragmented tasks of short duration and frequent changes of colour, structures a very different space. In this article I draw on my experiences of joining an embroidery group to explore the simultaneity of social, cultural and physical processes in stitching practices, speech patterns and group dynamics. Finding that embodied knowledge of the craft includes patterns of social and physical interaction – or separation, I propose that hand-stitching practices can suggest alternative ways of thinking about how we create and occupy personal and social spaces.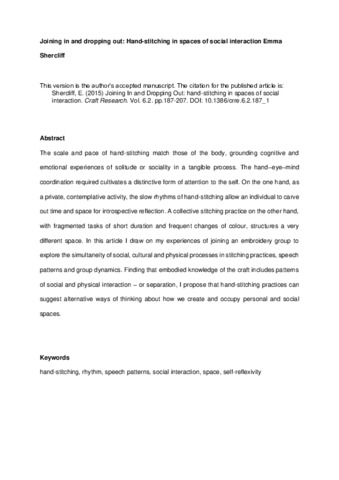 Site-specific, collectively made textiles are particularly effective producers of histories that entwine place and people. More than simply a means to an end, the process of making together foregrounds the potential of textiles to transform and be transformed beyond their materiality. The material making process mirrors another kind of making process: that of a certain kind of social integration or a sense of being and belonging somewhere, however temporary and changeable these may be. Once completed, however, these material artifacts can provoke difficult questions concerning the responsibility for their storage and display, succumbing to a fate in semi-permanent storage and eventually relinquishing their material presence to a form of visual or textual representation. Although this is not the fate of all collectively made textile works, given the widespread practice of collective textile-making, it is inevitably the fate of some. Using the example of a collectively made hooked rug project that I coordinated and participated in 15 years ago, I will explore in this article the transformed status of collectively made textile artifacts through memories of making in order to open up new understandings of these types of site-specific collective textile- making projects as a different kind of creative practice: as a narrative performance of experiences of being together.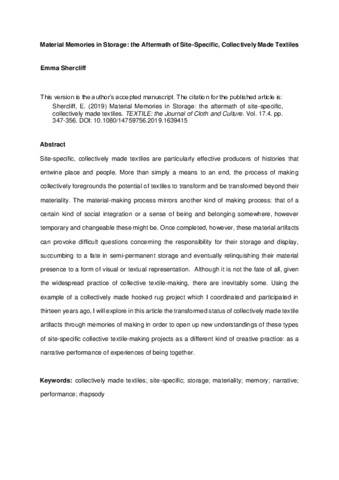 This paper discusses making with others as a means of researching the experience of making, with a particular focus on textiles. Group textile craft activities are widespread today; however, there are few documented examples of research by craft practitioners taking place in this context. The activities used by the authors, relating to stitching and knitting, demonstrate that 'making with others' is a highly versatile approach that can be adapted according to the variables presented by diverse research aims and questions. Shercliff 's research is explored in detail as a case study, with three group making activities documented and evaluated. These examples are used to identify a number of attributes, which support the comparison and development of research-led participatory textile making activities. The strengths and challenges of these methods are discussed: a key strength is the gathering of rich data during creative activity, while a central challenge is the performance of multiple roles by the practitioner-researcher.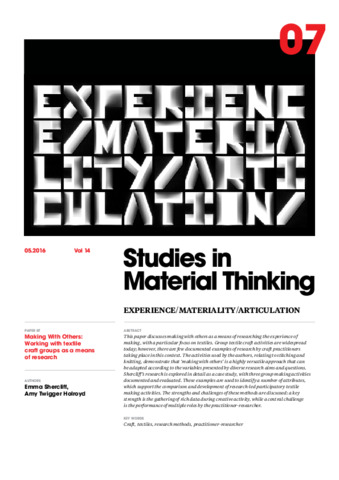 This article, written by the coordinators of the Stitching Together network, introduces a diverse range of case studies that critically discuss participatory textile making activities, complementing a first collection of case studies that was provided in the previous volume of this journal. Drawing on a recent network event and the case studies included in this issue, the article outlines a number of ethical dimensions that arise in participatory textile making activities: first, the challenge of inclusivity; second, the vulnerabilities that arise when space is made for shared learning; third, the issue of communication between facilitators, participants and partners in collaborative projects; and fourth, the ways in which projects and participants are (re)presented in research findings. The theme of innovation is also discussed, with a focus on the participant experience. Looking to the future, the need for further collaborative interrogation of the complex questions raised through participatory textile work is highlighted. A good practice document, created with the input of network members, is highlighted as a potentially useful foundation for critical discussion.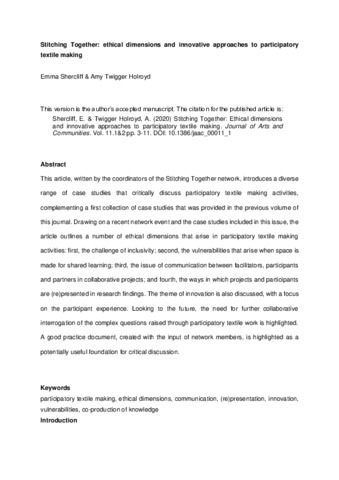 T
W
In the context of a rapidly changing world, Rachel Worth explores the ways in which the clothing of the rural working classes was represented visually in paintings and photographs and by the literary sources of documentary, autobiography and fiction, as well as by the particular pattern of survival and collection by museums of garments of rural provenance. The book analyses the ways in which clothing and how it is represented throws light on wider social and cultural aspects of society, as well as how 'traditional' styles of dress, like men's smock-frocks or women's sun-bonnets, came to be replaced by 'fashion'. This study, with black & white and colour illustrations, both adds a broader dimension to the history of dress by considering it within the social and cultural context of its time and discusses how clothing enriches our understanding of the social history of the Victorian period.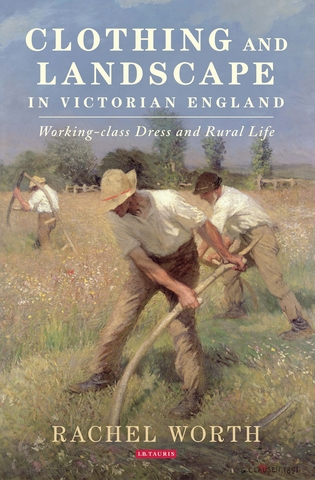 In what ways do changing notions of social class correspond with key developments in the history of fashion? Focusing on examples ranging from 18th-century Britain to aspects of the global fashion industry in the early 21st century, 'Fashion and Class' examines the meaning and evolution of the term 'class', from its Marxist origins to modern day interpretations. Did industrialisation, technological change and developments in fashion retailing bring about a degree of 'class levelling' or in fact intensify class antagonism? And to what extent does modern mass consumption and cheap labour revive some of the ethical issues faced in 19th-century British textile factories? Exploring a variety of case studies that examine the changing relationships between fashion and class in different historical contexts, from the French revolutionaries of the 1780-90s through to the changing relationships between couture, designer and high-street fashion in the mid-20th century and onwards, this book is essential reading for those wishing to understand the ways in which the fashion system is closely connected with ideas of class.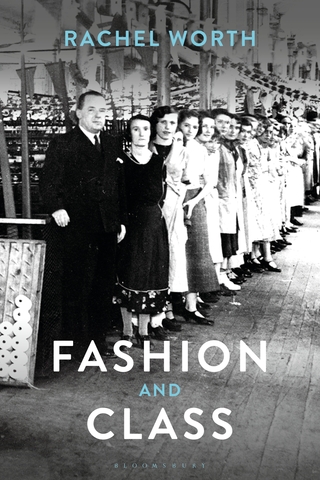 Drawing on previously unpublished company archives, this book considers Marks & Spencer's contribution to British – and, since the 1970s, international – fashion. Rachel Worth discusses how, from the 1920s, the company brought fashion to the high street, offering well-designed clothing at affordable prices. She analyses the unique ways in which the company democratised fashion, arguing that its pioneering role in the development of new fabrics, the employment of designers as consultants and its marketing and promotional strategies have changed the ways in which we understand and consume fashion.
This book received Arts and Humanities Research Council Funding (AHRC).