Items where Subject is "Digital art"

Up a level
Number of items at this level: 2.
S
This article examines the performative digital practices of India's feminist campaign group Blank Noise, with a focus on their 2016 project #WalkAlone. The event sought to explore and challenge embodied notions of female safety and visibility in night-time urban public spaces, by inviting women to walk alone in a place of their choosing between 9pm and midnight. In doing so, Blank Noise called on participants to 'walk alone, together', utilising digital documentation tools and media platforms to network these dispersed embodied acts. Drawing on my participation in #WalkAlone from the remote position of the UK alongside online documentation of the project, I examine how these tools established 'digital proximities' between participants, transforming our solitary acts into collective embodied action. I argue that Blank Noise's project extends Butler's notion of 'plural performativity' (2015) into a digital public sphere, by constructing a mode of embodied assembly within media spaces. Here, digital proximities between dispersed participants forged a concerted enactment from the private and personal actions of individual women, walking on the stage of the nocturnal city.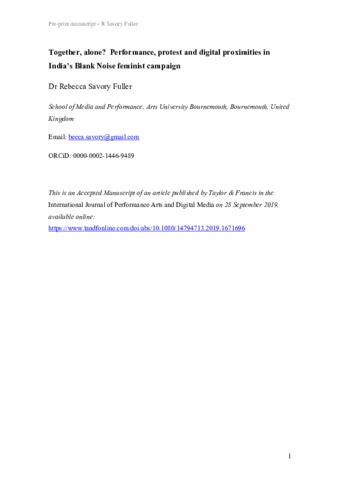 W
Abstract
This article discusses the challenges that dyslexic acting degree students can experience when engaging with classical text, offering a pedagogical strategy that facilitates the reading, and acting of Shakespeare. Calling attention to restrictions that dyslexic acting students can experience, the author considers how these difficulties might be overcome. It is re-iterated throughout the literature that those with dyslexia have problems with decoding, word recognition, working-memory and automatisation of skills. Shakespeare's writing contributes additional challenges with idiosyncrasies of word-use. Describing her action-research trials with dyslexic acting students, the author shares her development of a teaching method, which supports identification of meaning and hierarchy within the text, interlinked with an appropriation of physical practice drawn from Brecht and Stanislavski. The final action-research cycle drew from Kintsch and Rawson's Text-Base (2005) to enable a comprehension and memory of the text, underpinned by the Lexical Retrieval hypothesis (Krauss et al., 2000). The strategy was trialled in a performance of Shakespeare's Venus and Adonis with dyslexic acting students. The participants' modes of processing the text were encouraged as components of performance. Feedback supported the view that this method is effective in assisting dyslexic individuals in realisation of words, self-efficacy and enriched performance.