Items where Subject is "Digital art"

Up a level
Number of items at this level: 6.
G
This research explores how blind and visually impaired (VI) people can engage with e-textiles in creative and tactile ways, by making interactive e-textile art pieces to tell their own stories. Touch, gestures used to interact with textiles and e-textiles, and association of meaning with objects are central concerns of the work, in the context of how different materials can evoke and be used in self-expression. The research focuses on how VI participants can design and make their own e-textile objects, bringing in ideas of empowerment and agency, and drawing attention to what characterises an effective 'participatory making' environment.
Three studies are reported. The first study observed practices at two schools for blind and VI children/young people to establish how 'objects of reference' are used within the classroom environment, and what other sensory stimulation is important. The second study involved two series of hands-on e- textile making workshops, at a charity for VI people, and at a contemporary art gallery, to explore how visually impaired participants can design and make personal e-textile objects. The third, a laboratory study, investigated what associations and gestures visually impaired participants used with e-textile sensors that had different textures and functioned in different ways. The research explored the potential of participatory making of e-textiles in terms of touch, personal association, accessibility, and creativity.
The research identifies some effective practices for participatory making of e-textiles with visually impaired people, including a modular approach to circuit-making. It highlights the importance of ownership of the process for the participants. It demonstrates that, although there is 'no common language of gesture' for touch-based interaction with e-textiles, conventions can be established through example or consistent use. It outlines the 'lessons learned' in working with blind and visually impaired people, which can inform other researchers, designers, or artists interested in participatory making.
M
The video Twisting Metal with Earth was produced to explore how weather stations can be useful beyond their function as mechanical sensors. It was suggested that they also act as an aesthetic interface with the hyperobjects of big data and global climate. The video's animated characters were voiced by interview recordings from couples discussing their experience of weather. One interviewee collected and shared data from his own weather station, others gave more experiential accounts. From the characters', a conversation emerged that blurred the boundaries between global systems and local experience. Mechanical climate sensors and plants were discussed by the characters as useful objects to think through large and complex topics.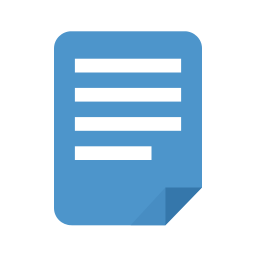 R
This paper documents the Author's experiments with 3D-based AI image generation software, identifying within the visual outcomes a tendency towards hauntology that is seemingly the result of the collaborative image-making process as well as a material quality of the method. The paper suggests that a combination of the authors own aesthetic concerns and working methods, combined with the tendencies inherent within the training method used to develop the Stable Diffusion AI model, results in images that are haunting in a number of ways that align to the conceptual framework of Hauntology: through unexpected traces and glitches; anachronism; notions of shared dreaming / remembering; and through the invocation of the poor image.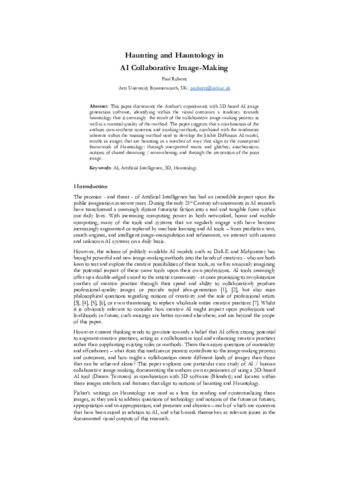 S
This article examines the performative digital practices of India's feminist campaign group Blank Noise, with a focus on their 2016 project #WalkAlone. The event sought to explore and challenge embodied notions of female safety and visibility in night-time urban public spaces, by inviting women to walk alone in a place of their choosing between 9pm and midnight. In doing so, Blank Noise called on participants to 'walk alone, together', utilising digital documentation tools and media platforms to network these dispersed embodied acts. Drawing on my participation in #WalkAlone from the remote position of the UK alongside online documentation of the project, I examine how these tools established 'digital proximities' between participants, transforming our solitary acts into collective embodied action. I argue that Blank Noise's project extends Butler's notion of 'plural performativity' (2015) into a digital public sphere, by constructing a mode of embodied assembly within media spaces. Here, digital proximities between dispersed participants forged a concerted enactment from the private and personal actions of individual women, walking on the stage of the nocturnal city.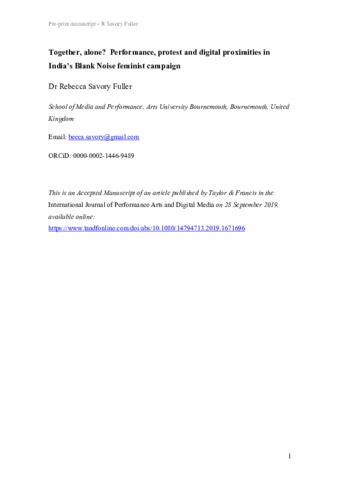 W
Abstract
This article discusses the challenges that dyslexic acting degree students can experience when engaging with classical text, offering a pedagogical strategy that facilitates the reading, and acting of Shakespeare. Calling attention to restrictions that dyslexic acting students can experience, the author considers how these difficulties might be overcome. It is re-iterated throughout the literature that those with dyslexia have problems with decoding, word recognition, working-memory and automatisation of skills. Shakespeare's writing contributes additional challenges with idiosyncrasies of word-use. Describing her action-research trials with dyslexic acting students, the author shares her development of a teaching method, which supports identification of meaning and hierarchy within the text, interlinked with an appropriation of physical practice drawn from Brecht and Stanislavski. The final action-research cycle drew from Kintsch and Rawson's Text-Base (2005) to enable a comprehension and memory of the text, underpinned by the Lexical Retrieval hypothesis (Krauss et al., 2000). The strategy was trialled in a performance of Shakespeare's Venus and Adonis with dyslexic acting students. The participants' modes of processing the text were encouraged as components of performance. Feedback supported the view that this method is effective in assisting dyslexic individuals in realisation of words, self-efficacy and enriched performance.
Inclusivity and Equality in Performance Training focuses on neuro and physical difference and dis/ability in the teaching of performance and associated studies. It offers nineteen practitioners' research-based teaching strategies, aimed to enhance equality of opportunity and individual abilities in performance education.
Challenging ableist models of teaching, the sixteen chapters address the barriers that can undermine those with dis/ability or difference, highlighting how equality of opportunity can increase innovation and enrich the creative work. Key features include:
• Descriptions of teaching interventions, research and exploratory practice to identify and support the needs and abilities of the individual with dis/ability or difference
• Experiences of practitioners working with professional actors with dis/ability or difference, with a dissemination of methods to enable the actors
• A critical analysis of pedagogy in performance training environments; how neuro and physical diversity are positioned within the cultural contexts and practices
• Equitable teaching and learning practices for individuals in a variety of areas, such as: dyslexia, dyspraxia, visual or hearing impairment, learning and physical dis/abilities, wheelchair users, aphantasia, attention-deficit/hyperactivity disorder and autistic spectrum.
The chapter contents originate from practitioners in the UK, USA and Australia working in actor training conservatoires, drama university courses, youth training groups and professional performance, encompassing a range of specialist fields, such as voice, movement, acting, Shakespeare, digital technology, contemporary live art and creative writing.
Inclusivity and Equality in Performance Training is a vital resource for teachers, directors, performers, researchers and students who have an interest in investigatory practice towards developing emancipatory pedagogies within performance education.