Items where Subject is "3D Design"

Up a level
Number of items at this level: 7.
B
Creation of new interfaces for musical expression can be especially challenging when targeted at end users having complex learning needs. Such users have sensory, cognitive, or physical impairments, which affect their ability to play traditional instruments, leading to a diminished music making experience. Technology can often help bridge the gap between the user and their musical intentions. However, its use in schools introduces additional constraints, such as, affordability, acceptance by staff and acceptable learning time. We developed the SenseEgg system to address these issues.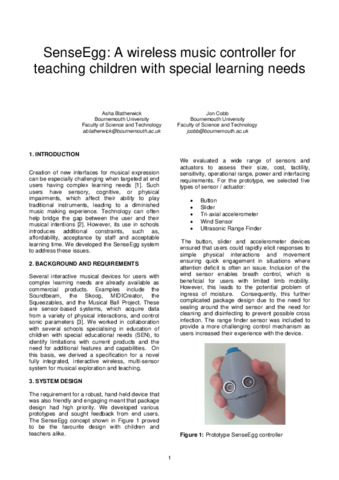 H
The Flock! exhibition explored the diverse and dynamic uses of flock. It provided an understanding of the applications, benefits and important qualities and uses of flock through the exploration of an array of historical and contemporary flocked objects. The exhibition explored how flock is used across a variety of contexts, including interior design, publishing, and fashion design. It addressed the importance of flock as an important process and surface treatment that is widely used. Importantly it explained that flock is a distinct process and outcome that is not to be mistaken as velvet or referred to just as a 'fuzzy' surface.
The exhibition provided visitors with an understanding of flock and how and why it continues to endure and appeal.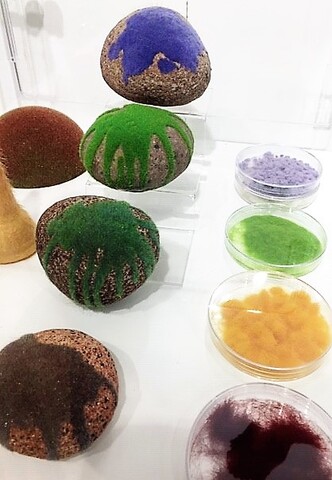 The strongly entrepreneurial orientation of the University of Huddersfield is the subject of this article. A brief history is followed by sections on belief systems and values between employer engagement and the curriculum. The article concludes that collaborations outside academia are essential in guaranteeing vocational relevance in university teaching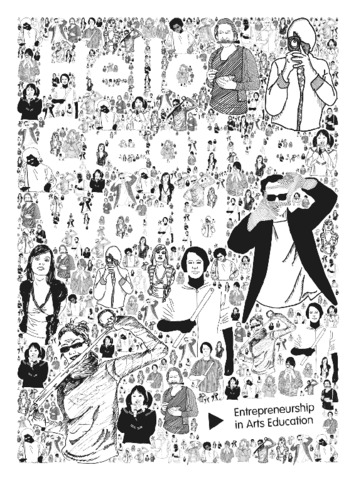 J
This study focuses on mind-maps as an aspect of design culture – the conventions and practices adopted by a community of designers. The research aims to work towards establishing the effectiveness of mind-maps as a tool for ideation. It questions the extent to which mind-maps enable students to break away from the cultural frames evoked by design briefs in order for creative cross-space associations to occur. By comparing mind-map-like diagrams produced by nine undergraduate students with codes emerging from the analysis of the corresponding briefs, the study seeks to answer the question: What levels of cross-space mapping are evident in the knowledge representation diagrams produced as part of an undergraduate graphic design, practice-based project? The study found 301 cases of internal linking, as opposed to 23 instances of cross-space mapping, however it concludes that there is value in knowledge representation diagrams for ideation and makes recommendations for their use.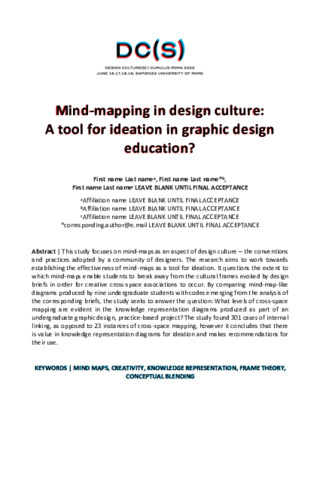 K
qualitative research inquiry sets out to investigate the active interplay of design
poetry with users, designers and the objects of design. The outcome of this thesis has
contributed to the field of design by expanding the concept of design poetics and
developing design poetry as another dimension of design writing. It examines the
relationship between poetry and design against the backdrop of a growing interest in
the ways in which we write about the designed world. It proposes design poetry as a
compelling and immersive form of design engagement, one which is as yet underresearched.
This research has also shown that, with its capacity to encompass social, political and
cultural factors, design poetry can be a significant vehicle in shaping our view of the
objects of design. The plastic chair became a focus for this research gaze, as an
object of design importance, with both social and cultural relevance; as an object that
is mundane and quotidian but one that can achieve iconic status as a design classic.
The research adopts methods that support the critical-creative approach which
underpins an arts-based inquiry. A significant outcome of the research is in the
development and synthesis of new creative research methods: the creative
conversations facilitating a dynamic collaborative dialogue with the key protagonists
i.e. designers, poets and users who remain at the heart of this inquiry; the synthesis of
individual and group critique on design poetry practice, employed as a method to both
share, evaluate and contribute to the development of the researcher's creative work;
the creative output itself, a book of original poetry that reflects the research endeavour
and captures the dynamic interplay of making, consuming and narrating.
L
These two chapters explore the development of two products and the reasons why they have acquired iconic status.
The Bic Cristal pen has been with us for more than sixty years. When launched, an average of 10,000 were sold daily in France. Now many millions are sold daily in more than 160 countries. Few brands share such logevity or geographical penetration, and no other pen has sold in such abundance. Its iconicity is further evidenced by its addition to leading museum collections,including the Museum of Modern Art, New York, in 2001, and the Pompidou Centre, Paris,in 2006, and its inclusion in such design compendiums as 'Phaidon Design Classics', 2006. Significcant also is its use as inspiration for the design of other artefacts, as in the lamp illustrated.
The Polypropylene chair was immeditately recogised as something special. Within weeks of its launch in April 1963 the 'Architects' Journal' reported: 'This excellent solution to the multipurpose side chair will certainly prove to be the most significant development in British mass produced design since the war'. The same year it won the Duke of Edinburgh's Award for elegant design, a first for a plastic product, and was acquired by the Victoria and Albert Museum, the UK's national museum of art and design. Nonetheless, no one could have foreseen its prolific future: that it would come to be manufactured globally in mulitiple millions, that it would be used in such diverse locations as Mexico's Olympic stadium and in Botswana in dug-out tree trunk canoes; that it would be widely copied and that it would still be in production and seen as 'of today', fifty years later. Its literal stamp of approval was its appearance on a Royal Mail first class stamp in a 2009 series, British Design Classics.
R
This paper documents the Author's experiments with 3D-based AI image generation software, identifying within the visual outcomes a tendency towards hauntology that is seemingly the result of the collaborative image-making process as well as a material quality of the method. The paper suggests that a combination of the authors own aesthetic concerns and working methods, combined with the tendencies inherent within the training method used to develop the Stable Diffusion AI model, results in images that are haunting in a number of ways that align to the conceptual framework of Hauntology: through unexpected traces and glitches; anachronism; notions of shared dreaming / remembering; and through the invocation of the poor image.