Items where Subject is "Other"

Up a level
Number of items at this level: 12.
B
The Creative Interventions research project examined creative arts student experiences of work-related learning (WRL) activity in the public and third sectors. It set out to explore how such experiences contribute to students' employability skills, how these are identified by the students and how the activities are valued by students, the higher education institution (HEI) and the external partners involved. This report was primarily written for academics (both within the creative arts and other
disciplines); the Higher Education Academy (HEA); employability support workers (e.g.careers staff); and employability policy-makers.
The project took place between 2008-2010, and was a collaboration led by the University
of the Arts London (UAL), in partnership with the Arts University College at Bournemouth (AUCB) and the Surrey Centre for Excellence in Professional Training and Education (SCEPTrE) at the University of Surrey. It was part of the National Teaching Fellowship Scheme (NTFS) project strand initiative funded by the Higher Education Funding Council for England (HEFCE) and managed by the HEA.
E
The creative turn within geography has seen a number of returns to the artists' studio as a site for exploring the vital, immanent, and affective relations that form these spaces of creative practice. Where interviews, observations, collaborations, with artists have directed attention to the non-representational, this paper approaches the studio as both a scene, and an atmospheric staging. Taking up broader discourses around the scenographic, it argues that scenes not only take account of the durational and compositional construction of studio spaces, but can be understood as a form of training and attunement through which participants are enrolled in the joint composition of studio atmospheres and registers. It directs attention to the agency that these compositions have in the production of the studio imaginary.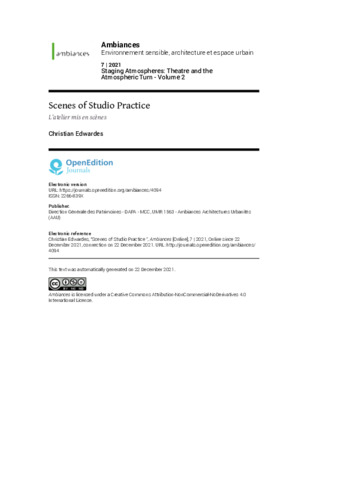 G
In exploring the mnemonic role of gardens, this paper will first focus on the value of gardens as both a palliative for melancholy, as liminal enclaves, and as carefully constructed surrogate memory systems. Their importance as places for reflection and recovery is examined through the lens of post-war Flanders, with a brief examination of the immense task required to recover the land from the trauma of the First World War. The paper then examines the manner in which pilgrims and veterans took their personal narratives to the battle zones. With so little to see, the bereaved had to reclaim lost names from the lost land; this process is explored through the work of the gardeners who had to 'plant' memory and to architects who designed vast monuments to enumerate those who had simply vanished without trace. Noting Fabian Ware's transformational contribution to this process, this paper examines how the sites of battle became named and reclaimed, how shallow ditches and slight mounds were rendered sites of reverence, and how garden cemeteries have become the epicentres of ritual remembering. Two 'mirror' sites of national memory are examined – the 'Anzac' headland in Turkey, and the Memorial parkland and gardens of Shrine Reserve in central Melbourne, both hallowed places strewn with symbolic trees, designed gardens and abundant rhetorical 'topoi'. They are also places where the seed and soil of distant battlefields has been mingled with the national landscape, where the front has literally been transplanted to another country. The paper concludes by suggesting that the garden memorial is an essential component in the future of remembering, creating open and inclusive spaces which rely on participation and careful nurturing to ensure that memory stays alert, relevant, and passed on from generation to generation.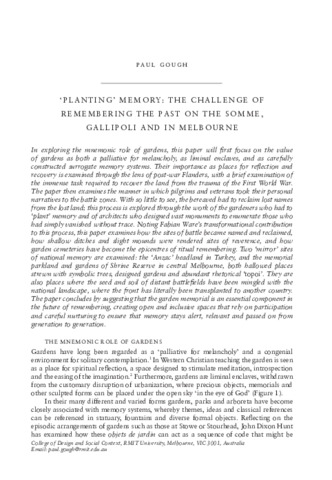 In 1989, at the age of 22, Paul Lewin left Bristol, where he had studied Fine Art for three years and travelled three hours south to West Penwith in Cornwall. He intended to stay for a few months so that he might rekindle an interest in the Cornish landscape he had first experienced at art school. He never returned north and has been based in the far south-west ever since.
Lewin hailed from Manchester, that vast conurbation and 'ideopolis' in the north-west of England, arguably the country's second city after London. As a young boy of seven or eight, he remembers being taken for a visit to nearby Stockport College of Art by his father, who was then studying textile design and helping to mix the coloured gouache paint for intricate wallpaper and carpet designs. A talented child at secondary school, the young Lewin showed such potential in drawing that he gained a place at the same college, which was then renowned (as it still is) for its attention to the essentials of fine art practice. Lewin prospered under the guidance of such lecturers as Duncan Watnough and Derek Wilkinson who laid taught drawing from rigorous observation and laid down the principles of the craft of painting.
This new book takes the form of a collection of existing paintings, and others created specifically for this publication, each painting marking a walking line west from Newlyn along the headland to Land's End, then north to Zennor. The images are accompanied by a text written by Paul Gough. contextualising Paul Lewin's practice in the history of Cornish painting, the tradition of en plein work, but also offers a commentary on the artist's sojourn across West Penwith. The book also includes an interview between the painter and writer which covers the artist's approach to painting, his methods, materials and those artists and writers who matter most to him.
L
Plastics have now been our most used materials for over fifty years. This book adopts a new approach, exploring plastics' contribution from two perspectives: as a medium for making and their value in societal use. The first approach examines the multivalent nature of plastics materiality and their impact on creativity through the work of artists, designers and manufacturers. The second perspective explores attitudes to plastics and the different value systems applied to them through current research undertaken by design, materials and socio-cultural historians. The book addresses the environmental impact of plastics and elucidates the ways in which they can and must be part of the solution. The individual viewpoints are provocative and controversial but together they present a balanced and scholarly un-picking of the debate that surrounds this ubiquitous group of materials.
R
Independent filmmaking is often faced with difficulties. For the team behind San Sabba, the issue resided in the invisibilities embedded in the film's location: a concentration camp within the city of Trieste. This article will explore how and why the writer and director of San Sabba considered Trieste as an archive of multiple histories, memories, and postmemory due to the historical findings the film is based on, and how silenced history informed a phenomenological examination of what a landscape can add to the collective memory. Linking other locations in the city, which contribute to the elucidation of stories and histories deprived of public attention, this article analyses the historical data and considers the ontological qualities of the landscape as an archive where dominant narratives impact the understandings of present and past identities.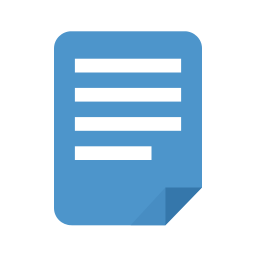 T
The chapter considers elements at play in the establishment of our current historical knowledge. Looking at past events as complex adaptive systems, it demonstrates why the current mediation of history is oversimplified. By formulating the possibility of a complex narrative matrix (environment), it explores its potential in offering both an archive of evidence drawn from multiple agents, and presenting the evolving relationship between them in time. This matrix aligns itself with a simulation of a CAS, the primary interest being the VR matrix' ability to be both an interactive interface enabling exploration of the evidential material from different points of access, and a construction able to reveal its procedural work; a dynamic that elicits the creation of meaning by including the reasoning behind the chosen archival material, the product of the process, and the process itself.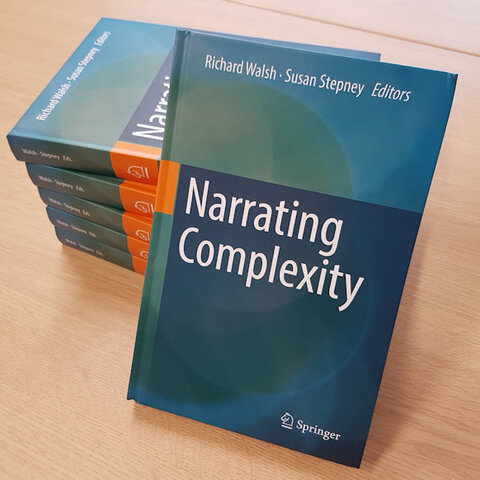 W
Music is essential to most of us, it can light up all areas of the brain, help develop skills with communication, help to establish identity, and allow a unique path for expression. However, barriers to access or gaps in provision can restrict access to music-making and sound exploration for some people. Research has shown that technology can provide unique tools to access music-making but that technology is underused by practitioners. This action research project details the development and design of a technological toolkit called MAMI – the Modular Accessible Musical Instrument technology toolkit - in conjunction with stakeholders from four research sites. Stakeholders included music therapists, teachers, community musicians, and children and young people. The overarching aims of the research
were: to explore how technology was incorporated into practices of music creation and sound exploration; to explore the issues that stakeholders had with current music technology; to create novel musical tools and tools that match criteria as specified by stakeholders, and address issues as found in a literature review; to assess the effectiveness of these novel tools with a view to improving practices; and to navigate propagation of the practices, technologies, and methods used to allow for transferability into the wider ecology. Outcomes of the research include: a set of design considerations that contribute to knowledge around
the design and practical use of technological tools for music-making in special educational needs settings; a series of methodological considerations to help future researchers and developers navigate the process of using action research to create new technological tools with stakeholders; and the MAMI Tech Toolkit – a suite of four bespoke hardware tools and accompanying software - as an embodiment of the themes that emerged from: the cycles of action research; the design considerations; and a philosophical understanding of music creation that foregrounds it as an situated activity within a social context.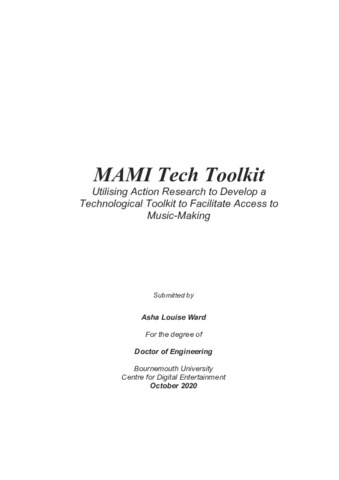 Students entering art and design courses in UK higher education come from a range of educational and cultural backgrounds. These students frequently report finding academic writing challenging. Expectations as to the nature of description, analysis and criticality can also differ across subject areas. As a result, students need support in developing their ability to communicate appropriately within their disciplines – their academic literacies. This study applies genre analysis to identify ways in which students express critical thinking in undergraduate Visual Effects Design and Production essays. The findings highlight common ways of linking ideas through exemplification, drawing conclusions from grounds, and challenging the validity of assumptions. Ways of expressing the strength of claims and indicating the writer's attitude are also frequently used in the sample. The findings are then integrated into a practical model for impromptu teaching of writing by subject lecturers. The article confirms understandings of the way students express criticality in essays, and aligns insights from genre analysis and academic literacies in a novel way. The outcome is a proposal for a practical, low-preparation approach to teaching academic writing within the disciplines.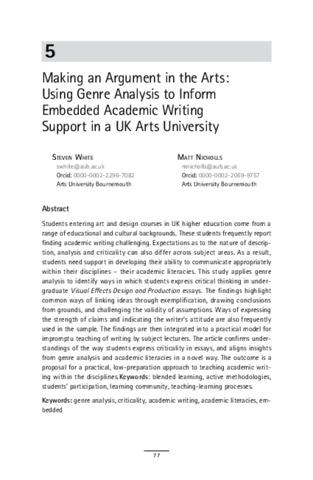 The idea of a 'third space' located between academic and professional domains has proven useful in exploring changing academic and professional roles in higher education, including in online learning. However, the role of technology in accounts of third space activity remains under‐explored. Drawing on research into the introduction of Massive Open Online Courses (MOOCs) at three UK higher education institutions, it is argued that both social and technical factors must be considered to understand, plan for and manage the third space roles and structures which emerge in such initiatives. This study focuses on learning designers, confirming that they act as third space 'blended professionals' in the somewhat distinctive case of MOOC development. However, it also proposes the concept of a socio‐technical third space in which blended professionals act as hubs in a metaphorical network of activity, using social and technical means to shape their own roles and those of others.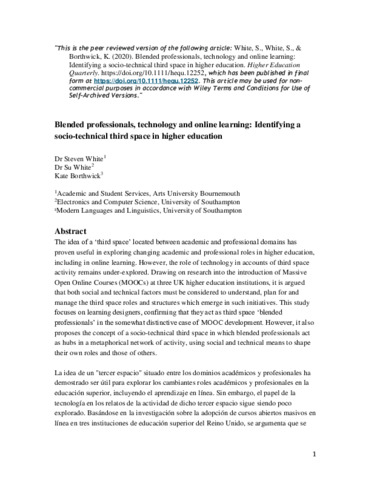 In university educational technology projects, collaborations with external partners pose a range of opportunities and challenges. Educational projects are often associated with unbundling of conventional higher education roles though there is limited empirical work in this area. This is particularly the case with massive open online courses (MOOCs), where further research is needed into the production of courses and the roles of those who produce them. This study investigated the extent to which conventional roles of academics are unbundled during MOOC production partnerships between universities and an external MOOC platform provider. The findings indicate that aspects of conventional educator roles are substantially unbundled to learning designers and other seemingly peripheral actors. Unbundling is partially driven by pragmatic decisions shaping course production processes which need to accommodate the massive and open properties of MOOCs, the nature of cooperation agreements with external platform providers and the reputational risk associated with such public ventures. This study adds to empirical knowledge on the unbundling of roles in online learning projects, and the findings have relevance for those involved in decision-making, planning and development of such projects in higher education.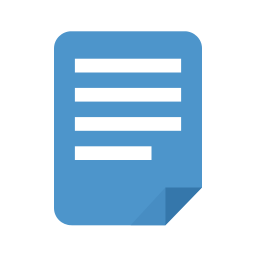 In what ways do changing notions of social class correspond with key developments in the history of fashion? Focusing on examples ranging from 18th-century Britain to aspects of the global fashion industry in the early 21st century, 'Fashion and Class' examines the meaning and evolution of the term 'class', from its Marxist origins to modern day interpretations. Did industrialisation, technological change and developments in fashion retailing bring about a degree of 'class levelling' or in fact intensify class antagonism? And to what extent does modern mass consumption and cheap labour revive some of the ethical issues faced in 19th-century British textile factories? Exploring a variety of case studies that examine the changing relationships between fashion and class in different historical contexts, from the French revolutionaries of the 1780-90s through to the changing relationships between couture, designer and high-street fashion in the mid-20th century and onwards, this book is essential reading for those wishing to understand the ways in which the fashion system is closely connected with ideas of class.